AI Writers: 12 Reasons Successful Content Marketers Use AI For Generating Content
AI writers (AI content generators) are computer programs that can generate text. They are used for website content, blog content, generating article content, or copy for landing pages. An AI writer has several advantages over human writers. They write quickly and efficiently, and they produce high-quality content that is fluent with no spelling mistakes placing you on top rankings for optimized SEO performance. It can be customized to meet the specific needs of a business or organization to avoid spending money on personnel for different content needs.
But how can you know what works best for you and your content writing?
How do you manage to try out all these different strategies?
The power of AI tools has no limits and It's no surprise that it is one of the most popular services today. Tools like AI-based writing provide so many opportunities to increase your traffic, conversions, or brand recognition, and that's fast. The benefits of using AI-based writing include not missing out on advantages such as improved productivity and accuracy.
In this blog post, we will cover 10 reasons why you should be using AI Writers for your content marketing strategies and tactics.
1. Some advantages of using an AI writer
An AI writer is able to create quality content that is relevant to your target audience, which can help your content get SEO optimized and improve your SEO ranking.
An AI writer can help you formulate and make you keep up with the latest trends in content marketing, which can also boost your SEO performance.
An AI writer is able to produce large quantities of quality content quickly and efficiently, which can help you increase website traffic and improve conversion rates.
An AI writer can write content in various formats such as blog posts, webpages, landing pages, or various marketing sales copy. This means that you have access to an unlimited supply of well-written articles at your disposal on any topic imaginable!
An AI writer improves customer satisfaction through interactive and conversational content experiences.
An AI writer can produce more content in hours than you have produced in days.
Navigate to the best AI writer Writr AI
2. Write high ranking SEO content faster than ever before
In today's world, websites need to produce content at a faster rate than ever before. The demand for high-quality and well-written blogs and articles is high, making it difficult for writers to meet the demand by themselves.
Using an AI writer can definitely help you overcome any writing obstacles and get that high converting content out in minutes.
Content is one of the most commonly found items on the web. In order to rank well in search engines, it's important to have high-quality content that's well-written and engaging.
Outsourcing your content creation to a third party can be a great way to speed up the process and ensure that your content is of the best possible quality.
Or you can use an AI writing service like Writr AI to achieve the same results, but faster and cheaper.
3. Reduce distractions, improve focus, and overcome writer's block
Content marketing can be time-consuming and stressful, as it requires researching, writing, editing, and formatting content.… the list is long!
Why put in your valuable time when you can create high-quality articles in a shorter amount of time by using our AI writing service?
Using an AI writing service gives you more time and less of a distraction for other important tasks that will help your business grow, like working on your marketing strategy or boosting your sales in other ways.
We all know that writing is hard, keywords must match, the content must be of value for the reader, it must be selling,  rank well on search engines, and at the same time make the visitor turn into a customer.
This is why an AI writer is used to helping you avoid the hassle of putting words together in a way that makes sense and flows well.
One of the great strengths of an AI writer is coming up with ideas and coming up with the topic you want to cover. From there on you have a solid ground to start letting the AI generate the text for you.
The algorithms will do a lot of the brain demanding tasks for you – not only does this method provide quality written articles at a quick pace but also provides minimal editing which means more time left over for more important things!
As mentioned before, the AI writer is superb at creating ideas, blog outlines, headings, Facebook Ads, and other social media metadata.
4. Create engaging content
Creating engaging content that gets noticed is one of the most important aspects of online marketing. Quality content is key to attracting customers and getting them to share your writing with their friends.
So why is it hard to create engaging content?
Well, If the content attracts the wrong audience it doesn't matter how engaging the content is since it's not what the visitor was looking for in the first place.
The content needs to be SEO optimized and found by your target audience.
Writr's AI tool allows you to quickly create content for multiple different niches, which can be a big help in achieving success online and boosting conversions.
5. Be more creative with an AI writer
When it comes to writing, being more creative can help you engage your readers. But, is creating creative content something you want to put your brainpower and time into?
With generated content, you can get help with creating original and engaging articles.
By emphasizing your points and by inputting your thoughts into the ai writing tool, you can create good content that is both informative and interesting with amazing results.
Incorporating these tools in a creative way means developing unique original content styles for your posts and specific objective; this will draw readers in unlike anything else if targeted correctly making you convert more.
6. Use AI as your professional content writing services for your business
As professional content writers, we believe that AI tools will revolutionize the writing process. Blog posts and articles will have unlimited potential, and everything can be checked for grammar, corrections, and spelling.
Sentences can be optimized for success online and can be tailored for marketing purposes if that's your goal.
We believe that human brains will no longer be necessary for writing content that is both accurate and engaging when ai content generators exist.
7. So, is content created by AI comparable to a real-world professional writer?
It depends, getting raw text or drafts created by an AI is for sure good enough to generate traffic to your blog or article. Additional manual changes can be made to make it more personal and unique with your particular style or signum.
Another way of getting better quality is to learn more about how to use AI tools and get them to do it instantly when you write articles.
8. How our AI text generator can help you in your content writing
AI can help you in your content writing in many ways. It can help you in your by providing you with information with drafts improving the length of your writing, and also suggesting topics for articles.
First, it can help you with grammar and spelling corrections. This is important because your content will be more professional and engaging if free of mistakes.
Second, our AI can help you optimize your content for success in marketing. The longer text is often necessary for engaging readers online, and the AI can help you make the most of every word. Finally, it can help you keep your content fresh and "up-to-date".
With the help of Writer AI, you can produce optimized content that will engage your readers and help you achieve your marketing goals.
9. Generate articles and blog posts ideas in seconds
Is AI good at generating blog posts or article ideas?
Yes. With just a description of the area of your article or post, Writr AI will give you suggestions on topics in no time.
The generated suggestions can then be used to generate full-scale texts and paragraphs. Or you can generate subheadings to narrow down on important parts of the text. The AI is perfect for this and will come highly useful.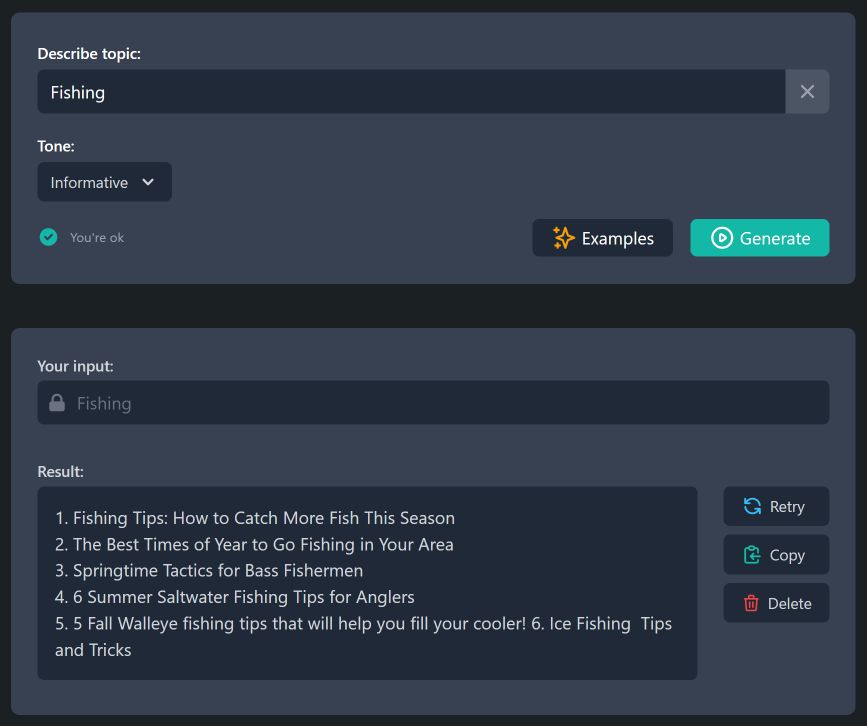 Stop putting in your precious time in thinking out topics and hunting the achievement of reaching the "creative space" for your article writing. Let the AI do the heavy lifting for you.
10. Generate content for social media(Twitter, Facebook, Instagram...)
Marketing on social media platforms has been the GoTo for the past 10 years when reaching out with your content. It could be an article you've written for days you wish to end up in every corner of the world and at the same time driving traffic and convert to sales.
Why not let AI make social media post for you?
You should. That's all there is to say.
AI is superior to humans in creating suggestions for converting headlines and descriptions for your social media post. Period.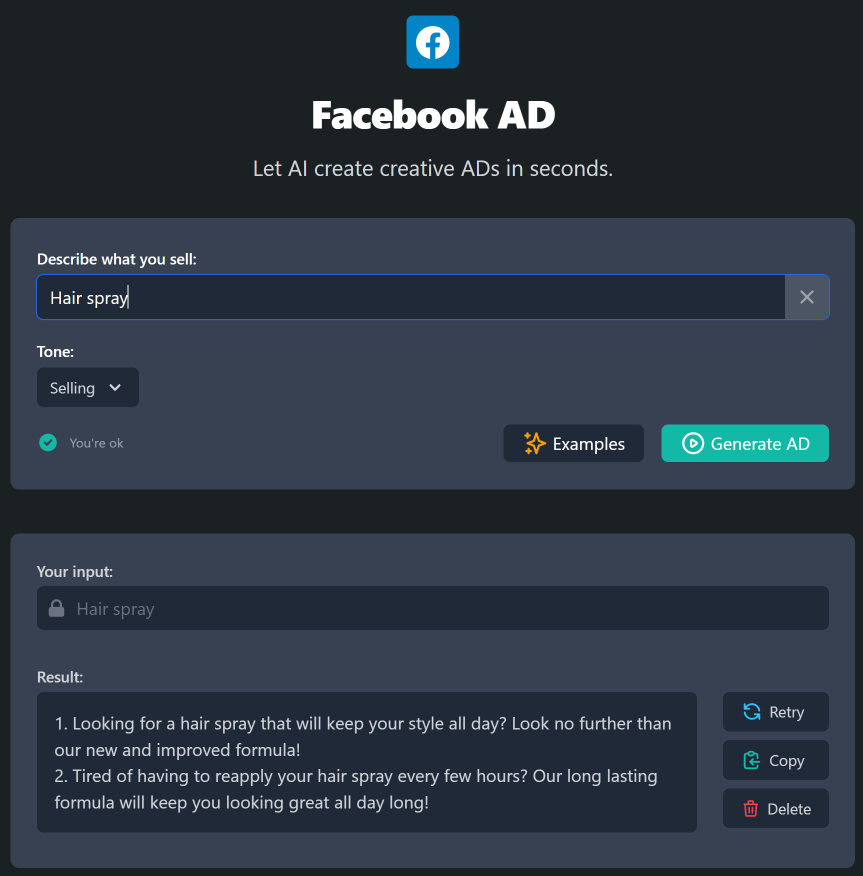 11. Why you should use an AI writing tool when using a website builder
Many people searching for a webpage builder have a short amount of time getting the web page up and running. The main goal is obviously to save time and money instead of paying a web developer that drags out your startup process.
Using an AI writer for your content is the same thing. Why should you pay a professional content writer when a "content builder" or an "AI writing service" can do it for you?
The answer is simple, you could but it's not worth it. If you want value for your money you should start using an AI writer.
The AI service will help you create web page sales copy and web page content fast when on a budget but with the same results.
12. The benefits of generating metadata instead of writing it yourself
Metadata is crucial for any kind of document, whether it be an article, book, picture, or any other type of purpose.
The benefits of automatically generating metadata are many and include easier indexing, improved search results, better exposure, and visibility.
By automatically tagging and describing your files, pages, or articles accurately and appealingly, you can increase conversions and clicks.
Metadata is the key to getting the most out of your content and is essential for anyone looking to generate the most ROI from their valuable time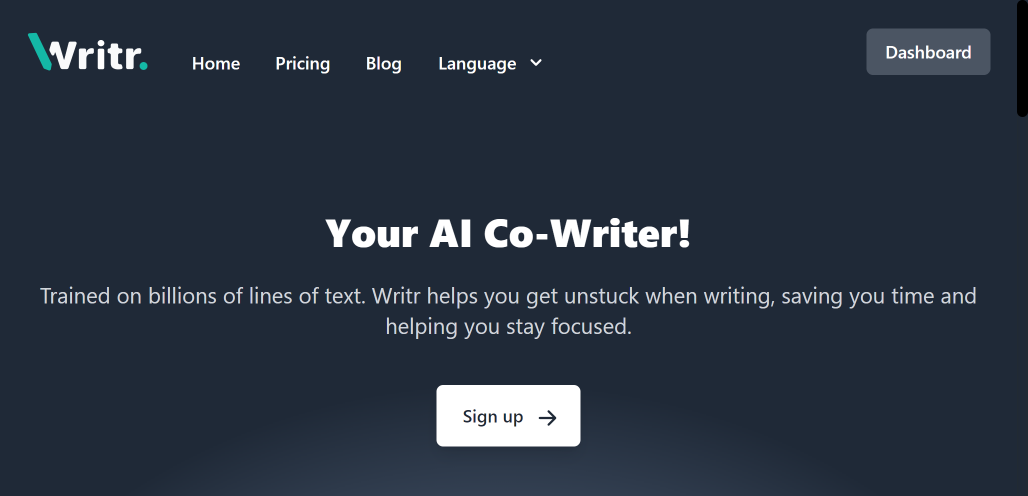 Some of the benefits of using AI writing tools include:
The ability to automatically and accurately tag content makes it easier for users to find what they are looking for.  AI writing tools are exceptional at doing this in a creative way.
Increased visibility and exposure for your AI-generated content as a result of better indexing by search engines.
Improved search results as a result of more accurate tagging.
Better control over length to match the metadata restrictions for search indexes.
Generated text gets you out of your thought pattern making more creative and descriptive texts makes it more appealing for clicks and conversions.
As you can see, there are many benefits to us an AI text generator for generating metadata.
Drawbacks of using an AI Content generator
AI writing tools can be effective but it also has their drawbacks. To get full use out of it you need to acknowledge the limitations and what it needs from you to give you what you're after.
An AI content generator can't read your mind so you will have to explain in "easy-to-understand" language. This is something that beginners who start using the service can have a hard time understanding. There is a learning curve but's not steep. A way of thinking could be that you try to explain something to a 5-year-old.
An AI writing service is limited by being a text and content-generating tool, not a fact tool. So the text you get back needs to be fact-checked before publishing.

The text is generated for you but the numbers are yours to fill in.
When you understand the above limitations you will also start being productive and get the most out of the AI writing tool.
Let's wrap this up
We have gone through some important points on how an AI text generator can benefit your content writing and make you become more effective when you write articles.
We have gone through why you should use it to save time, the benefits of generating headlines, metadata, blog outlines, article content, blog posts, or copy to reach out to a broader audience on Facebook, Twitter, Instagram, TikTok, or other social media platforms.
We have described why you shouldn't use more brainpower or put more of your precious time into creating content an AI content generator can create effortlessly for you.
We have gone through if an AI can be compared to a professional content creator.
We have gone through the drawbacks of using an AI and why you must master the tool to get the most out of it.
I hope you do as thousands of other content creators have done and start using an AI tool ASAP.