AI can help you generate catchy and interesting headlines that will grab your readers' attention. It will help you to come up with new ideas when you write headlines and titles that are fresh and different with just a few clicks. We will further down go through how you do it with Writr AI.
But first, we will discuss what a good headline is and describe the difference between a headline and a title.
What's the difference between headline and title?
First of all, we need to understand the difference between headline and title.
To describe it short: The difference between a title and a headline is that titles reflect big ideas while headlines describe what's inside the content.
Both headlines and titles are important when presenting your work. They should be crafted in a way that entices readers, while also reflecting your brand.
Why is it essential to create good headlines and good titles?
A good title is important for a blog post, article, or other use cases because it entices readers to click on the link and read the article. A title is the first impression and If the headline doesn't interest them, they will likely move on to another website or source.
A well-written headline can also help improve SEO rankings, increase traffic to your site and boost conversion rates.
What are the different types of headlines and titles?
An engaging headline is one that makes the visitor want to read more. To do this you can use different techniques.
Different types of headlines and titles:
Problem-solving: Headlines that promise to solve a problem (e.g., Solve writer's block with this method…)
Ultimate/best: Headlines that tell the visitor what's the best (e.g., The ultimate title generator...)
Teaser: Headlines that tease the reader with a secret or juicy bit of information. (e.g., The easiest way of reaching top SEO ranking with a title generator…)
Number: Headlines that use numbers (e.g., 5 Tips To successfully write headline a headline with a headline generator…)
Question: Headlines with questions (e.g., What is a good headline...?)
Why you should: Headlines that refer to the reader (e.g., Why You Should use a title generator… )
Testing headlines: Write headlines like you test something (e.g., How do you know what kind of headline works best for your content?)
How-to: How to reach the top of Google search with a title generator...
How to use Writr AI to generate headlines?
Now when we know some things about titles and headlines it's time to dive into generating them automatically with Writr AI. The service has a wide range of different tools whereas some are tailored to generate headlines and titles. The generated content can be used for your blog post or article and can be a way of getting started with your subject.
The service supports many different use cases, ranging from Facebook ADs titles generation to blog outline generation, or generating subheadings. But there are two different modes for doing this for the moment of writing, Pro Editor and Basic Tools.
How to generate headline ideas with the pre-defined Basic Tool
Let's say you have written a blog post about a product for charging mobile phones called Smart charger and need a title.
The pre-defined Basic tool Article title generator:
Start by signing in or creating an account if you don't already have one yet.
2. Navigate to AI Tools in the side menu after you logged in.
3. Click the Article Title to open the title generator tool for articles according to the image below.
4. You should now see something like this:
5. Now comes the tricky part. You need to describe what you want to generate titles for.
Try something like this:
Phone charger called "Smart charger"
6. Select the type of Tone you want to generate titles for. There is a wild mix of tones that makes your titles more attractive. You can try all forms from a challenging tone to a happier, or informative one. Depending on your target audience or other end goals.
7. Click on "Generate" and suggestions on titles will be generated for you in the box below.
Generate title for product
Phone charger called "Smart charger"
Title suggestions
How to Choose the Right Smart Charger for Your Phone
What to Look For in a Smart Charger
The Best Smart Chargers on the Market
10 Reasons You Need a Smart Charger
5 Things to Know Before Buying a Smart Charger
7 Benefits of Owning a Smart Charger
Turn the Pro Editor into a title generator
The Pro Editor is a bit different compared to the Basic tools by opening up more freedom for you as a user. It is also harder to understand in the beginning but after grasping the basics you will be able to do more things dynamically in a more "inline way".
Before you start using the Pro Editor we recommend going through some of our introduction videos and walking through the interactive tutorial to learn the basics.
Anyhow, we will now describe how you generate titles with the Pro editor
1. Navigate to the Pro editor as a logged-in user. If you don't have an account you can sign in or register here.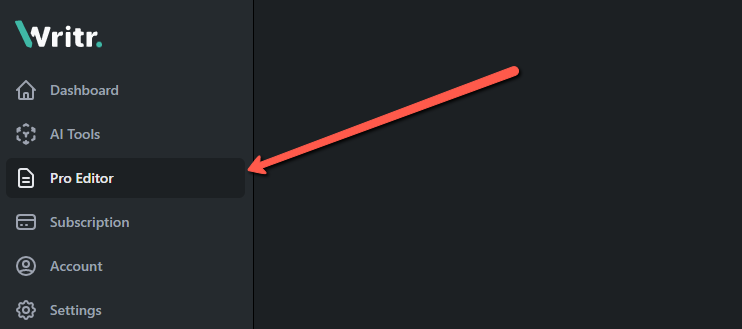 2. Click on "Create new document".
3. Writr AIs Pro Editor has multiple language support. Choose the language you will be working with. We select English for this article.
4. Name the article to make it easier to find in the document archive later on. We name ours Generate title demo.
5. We will use the instruction tool to generate the title suggestions in this demo. Your imagination will set the limits on what type of instructions you can send in. So you should really experiment with this to see what result you get back.
For this demonstration, we start out with this text:
Generate 5 suggestions on titles for a product called "Smart charger" in a selling tone
6. Select the text with the keyboard or with the mouse to show the AI menu. It should look like this:
7. The blue background colored icons are the AI tools in the Pro editor. Click the magic wand to use the AI Instruction tool.
8. After you click, the magic happens. You will need to wait for a second or two while our AI generates titles for you.
9. The result should look something like this:
Instruction for Pro editor generating titles
Generate 5 suggestions on titles for a product called "Smart charger" in a selling tone
Generated title results
Charge your devices smarter with the Smart Charger!
Get a faster, more efficient charge with the Smart Charger!
The smartest way to charge your devices is with the Smart Charger!
Smart charger: The intelligent way to keep your devices powered up and ready to go!
Pro editor - Wrap up
As you can see there were only 4 suggestions from the AI tool in the Pro editor generating titles in the example above. Why this is happening is that the AI decided that only 4 suggestions would be good enough. Or that the length limitations were reached.
You can obviously try sending in the same text multiple times and possibly get different results. However, we recommend doing this only one time to not spend an unnecessary amount of tokens on a request that doesn't deliver your desired results.
We suggest that you change something in your instruction when making new requests.
This goes for headline generator, title generator, and all other requests you perform with the tools.
Other use cases
We have seen an example of how to use the Basic tools and Pro Editor to generate titles and headlines but there are numerous other use cases. You can easily generate product descriptions or other types of metadata in our predefined tools. However, the real power of flexibility will be found in the Pro Editor where only your imagination will be the limit for what our AI can do.
After learning how to write instructions our AI tool will be something you easily integrate into your daily content creation. Not just to generate titles or article headlines, but also directly in your product descriptions and other use cases.
Can I use the Article title generator as Blog title Generator?
In the same way, you're using the AI tool to generate the Article titles, you can use the tool as a Blog title generator as well.
All you need to do is navigate to another pre-defined Basic tool or change your description in the Pro Editor to generate the title you want.
Will there be more pre-defined Basic tools?
Most people start out with the basic tools but then go over to using the Pro Editor instead. This is to get the flexibility they are after in their writing. The development team is constantly working to cover the most use cases in the content writing arena. So, new tools are coming continuously as customers reach out asking for functionality to cover their use cases.
Wrap up
In this article, we have covered the difference is between headlines and titles. The importance of and why you should aim to create good titles and good headlines for your end purpose.
We have covered how you use the basic tools to generate titles in Writr AI.
We have covered how you can turn the Pro editor with instructions into a title generator and informed you of other use cases.
I hope you do like thousands of other content creators and marketing professionals and start using the product you can't live without in your content writing.
Use Writr AI to generate your next headline!